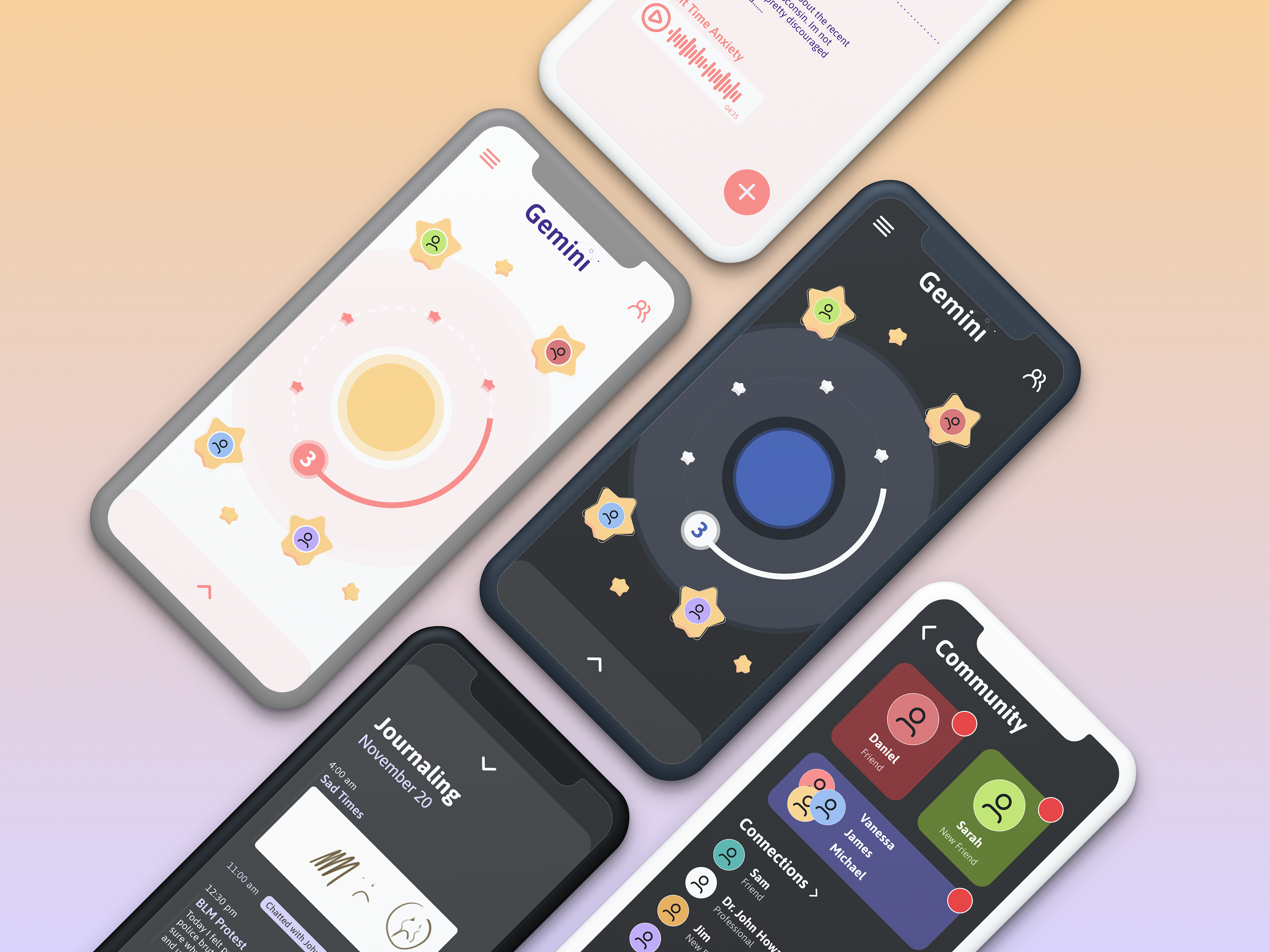 Team:
Joseph Lico, Miles Macklin, Jenna Scheen
Challenge: 
Design a Conversational Agent (CA) for health which will help mitigate the impact of the
COVID-19 pandemic
on a specific population or community of your choice. 
Our Solution:
 Gemini is a
dual-personality, mobile chatbot app
which analyzes users' written, audio, and visual journaling input to foster anonymous connections between
BIPOC young adults

. 
We want to learn about the disproportionate impact of COVID-19 on BIPOC adolescents' mental health through conducting interviews and collecting survey data so we may alleviate emotional strain by simulating companionship through Artificial Intelligence.
We conducted 6 interviews with Asian, African-American, Indian, White and Latino participants within the age range of 17-21, as well as a mental health advisor from the University of Michigan Counseling and Psychological Services (CAPS). To gauge our target population's satisfaction with current mental health aides and products marketed towards quarantine use, we also conducted a 12-question survey garnering 35 responses.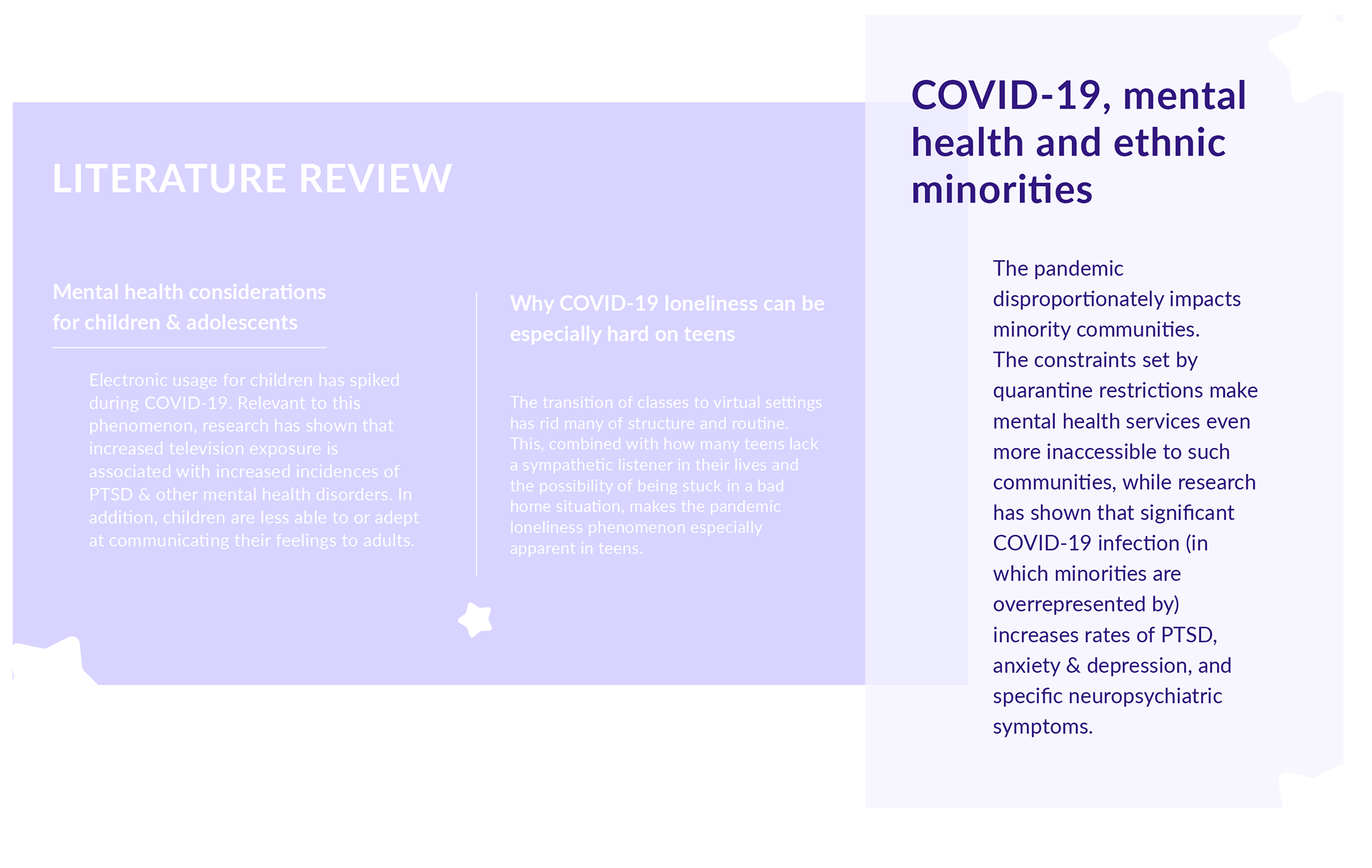 CONCEPT GENERATION & VALIDATION
After reviewing key findings from our survey data and narrowing down the primary concerns of each interviewee, our team  used affinity mapping to organize the interview data. We then categorized the interviewees' painpoints into 9 target areas:
1.
Stressors of generational divide
3. 
Mindfulness towards mental health
4.
Impact of transition to online school
7. 
Effects of increased screen time
8. 
Social media/social justice stressors
9. 
Unique needs of BIPOC seeking help
Following the data analysis, our team used virtual post-its on Mural to generate chatbot design solutions. Our brainstorming brought us closer to key features highlighted in the final design such as the spontaneity of creating anonymous connections between BIPOC with similar experiences, and locating resources for BIPOC-related mental health issues.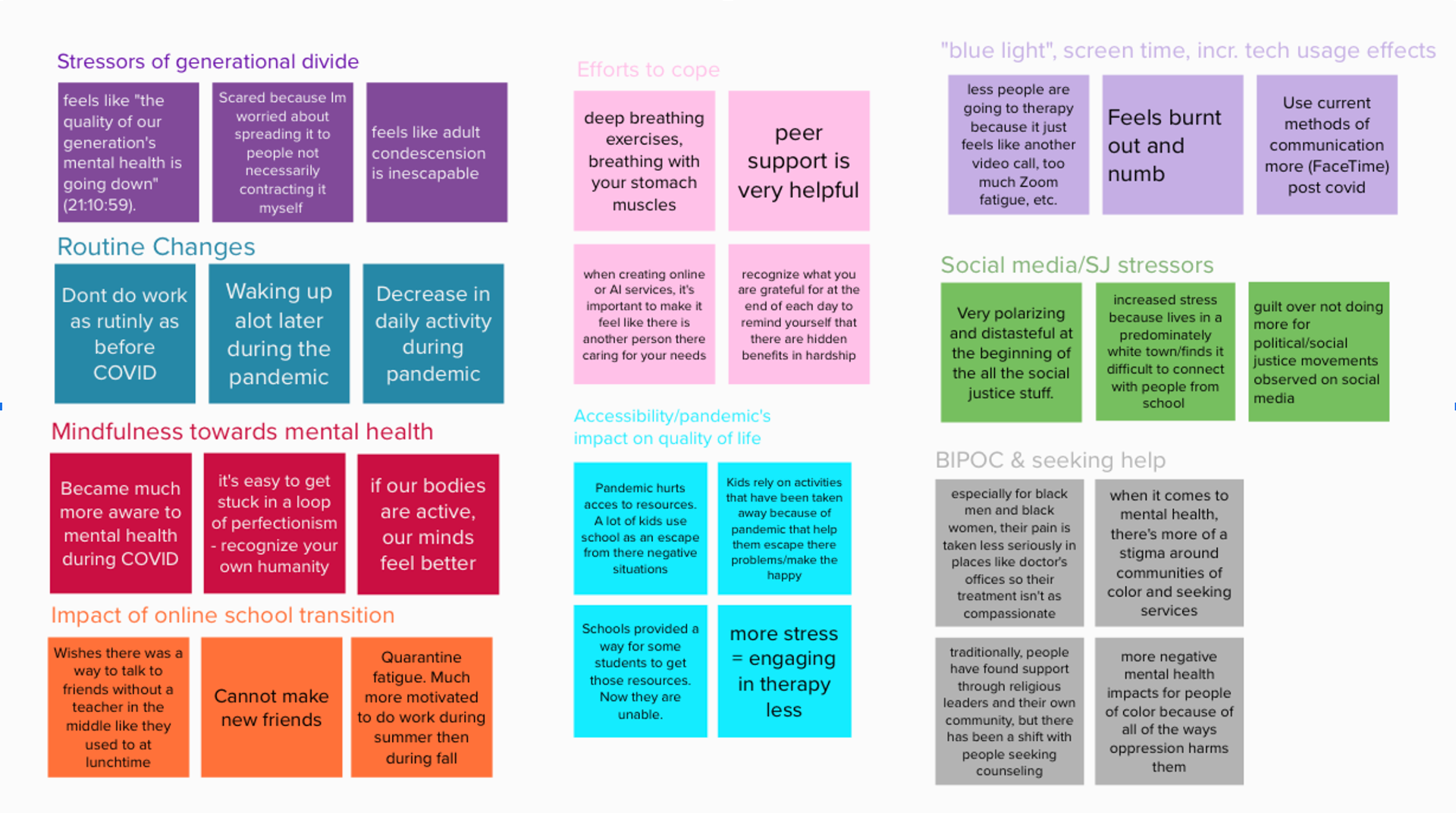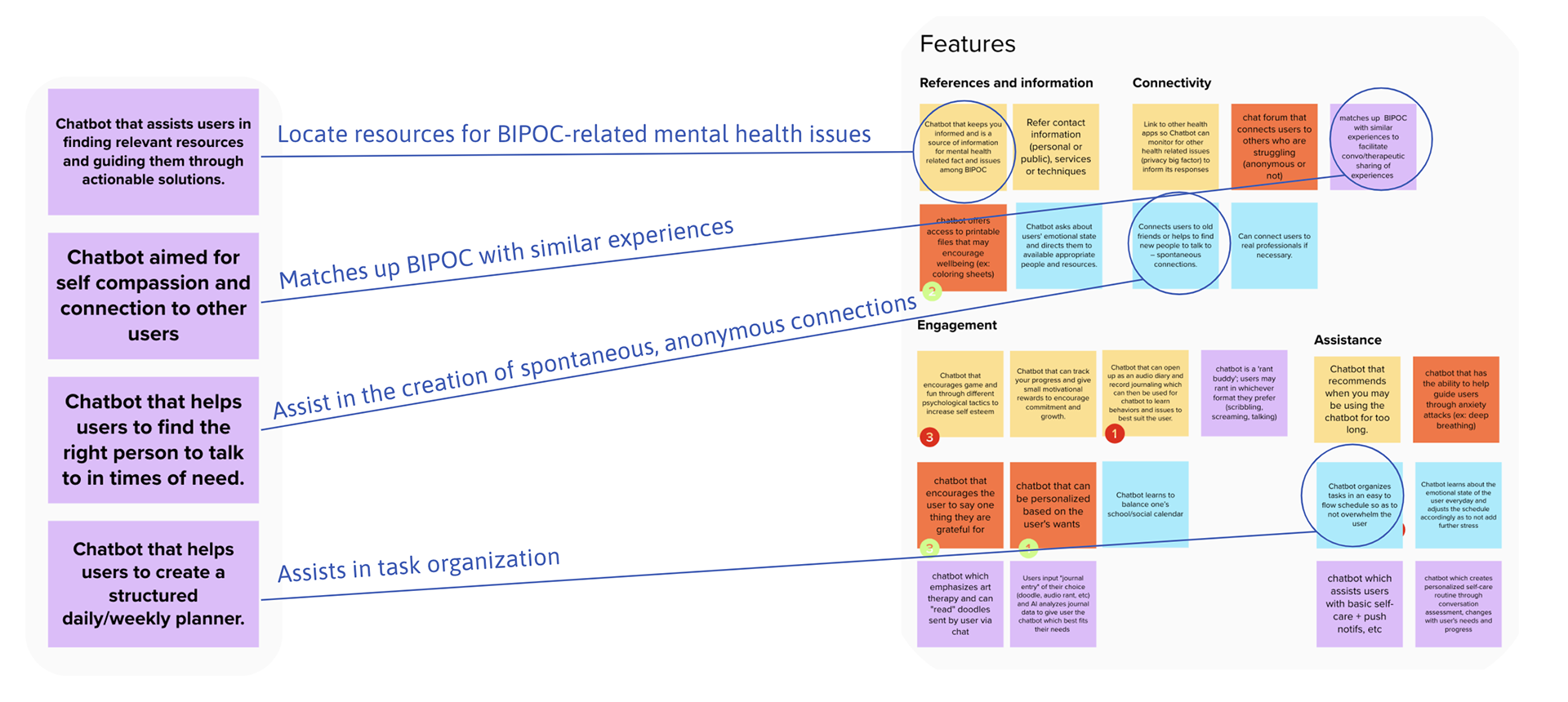 Potential Chatbot features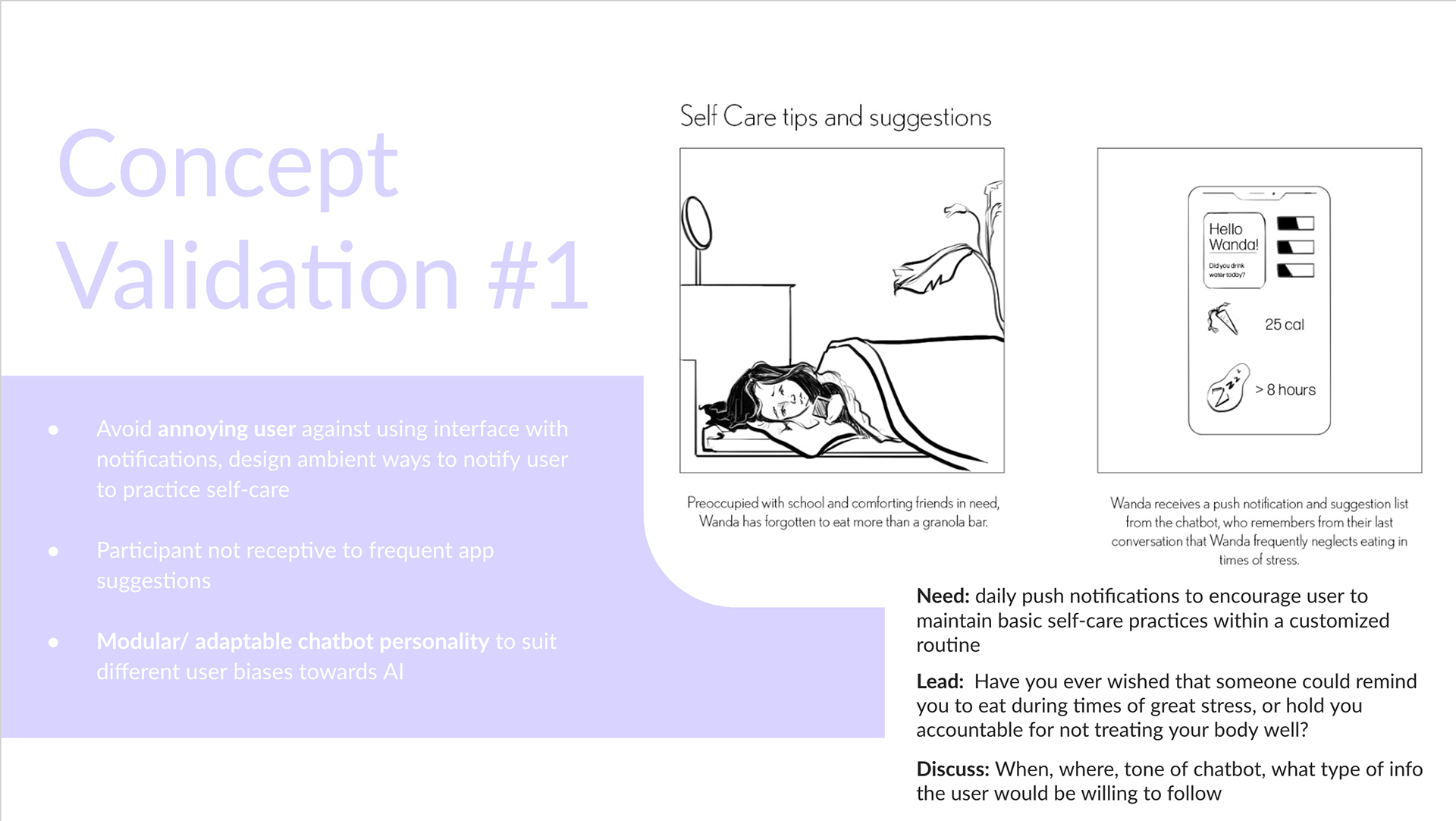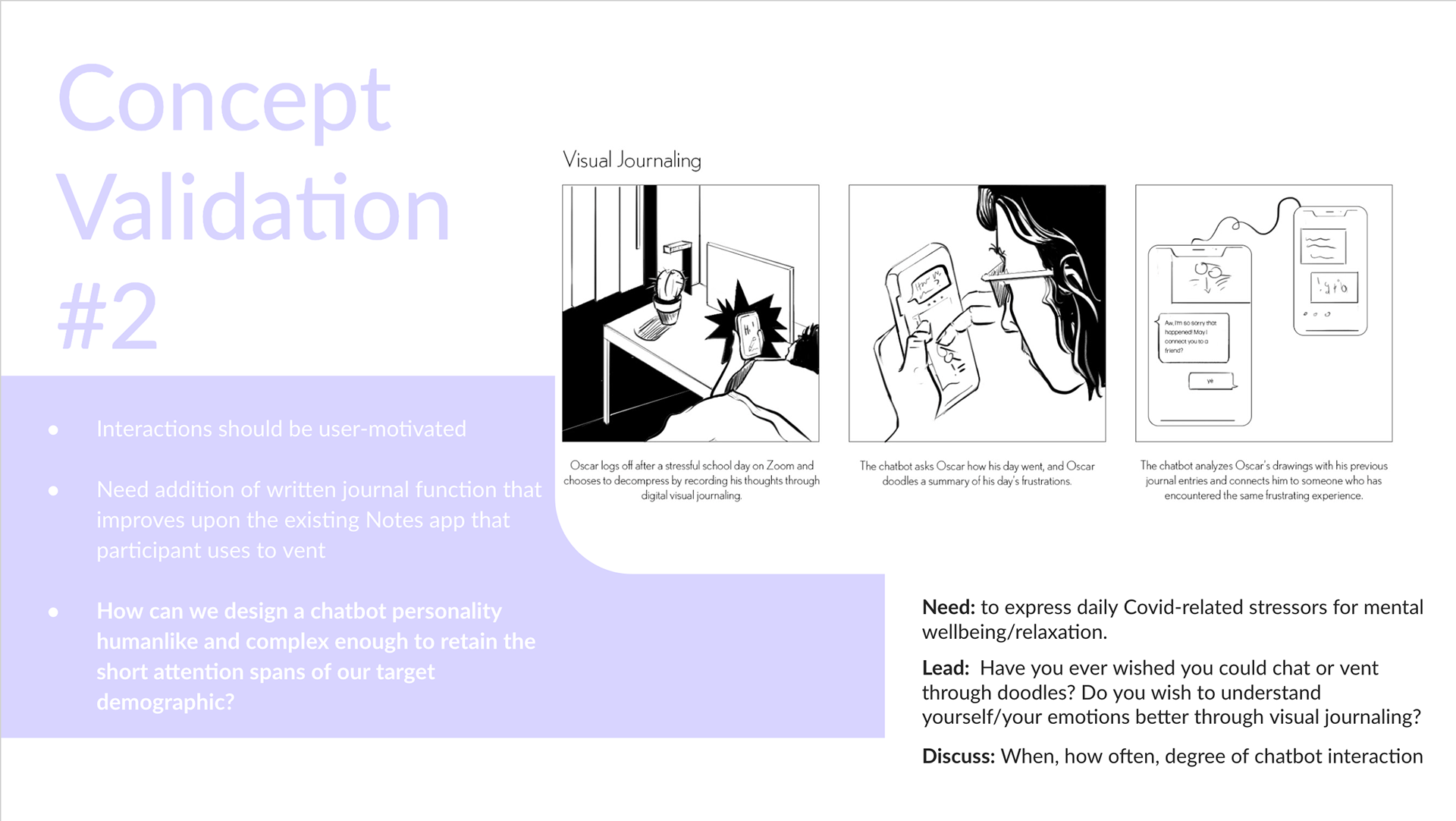 Following our 2 Concept Validation sessions, our team conducted 2 Think-Aloud Testing sessions for feedback on rough wireframes and our preliminary chatbot persona design. While we noted down opportunities for improving the chatbot's direct messaging and journaling features, the chatbot's frequent usage of emojis was well-received by our testers.

DESIGNING A DUAL-PERSONALITY CHATBOT
After attempting to visualize the chatbot features through rough wireframes and sample chatbot-user conversation, one question still hung in the air. 
How can we design a chatbot personality

humanlike and complex

enough to retain the attention of our target demographic while appealing to

different users'

needs and personas?
CHatbot Personality #1:
Castor: Light Mode
Named after the second-brightest object in the Gemini constellation, Castor is the

extroverted and blunt

chatbot personality whom the user turns to for comic relief. Castor sends memes and various media connected through third-party apps in alignment with the user's personality, while cracking

self-aware

jokes about being artificial intelligence (AI) and having no free will.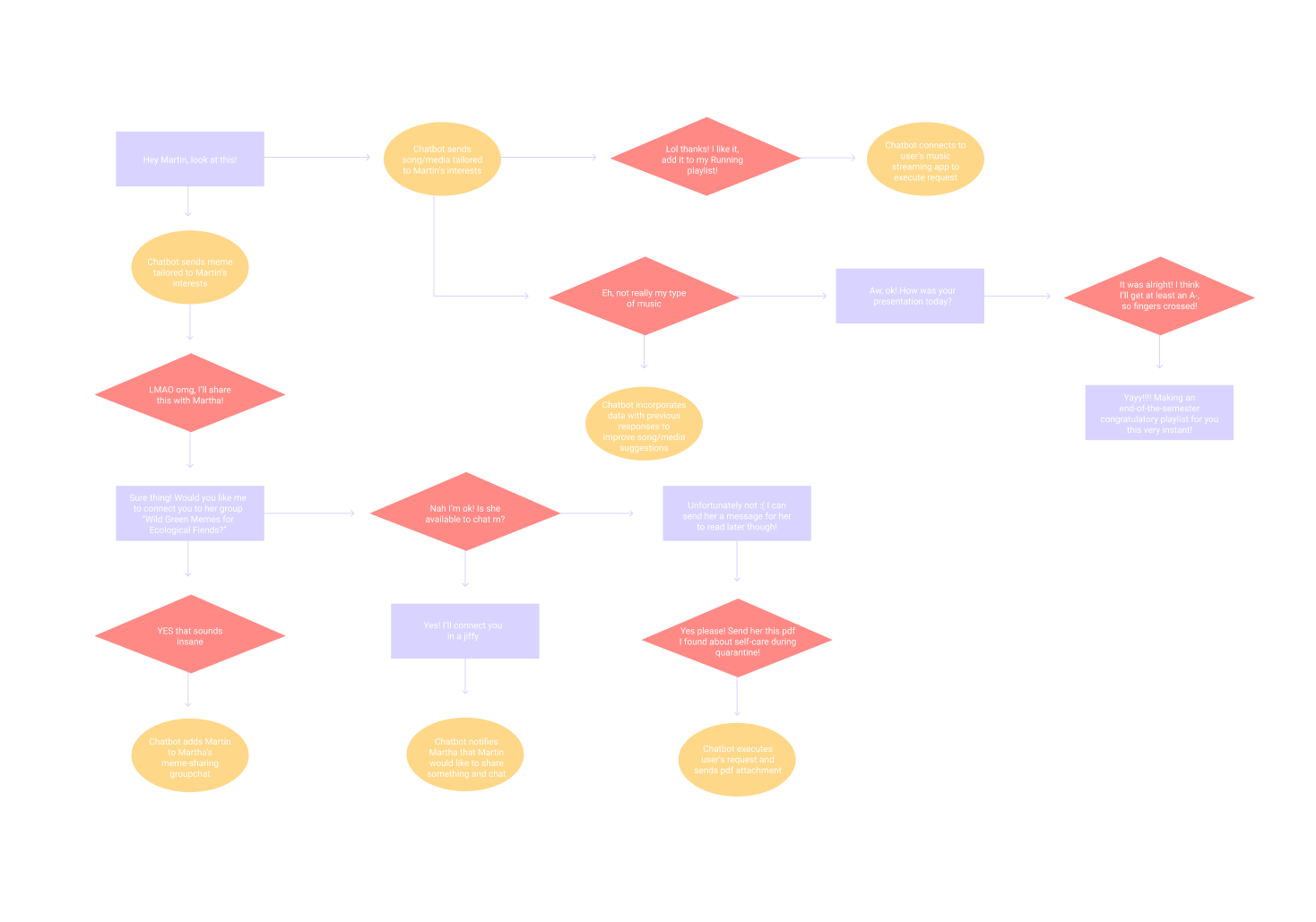 Chatbot Personality #2:

Pollux: Dark Mode
Named after the son of Zeus and his corresponding star in the constellation Gemini, Pollux is the more

open, agreeable, and nurturing

chatbot personality whom the user turns to for gentle reassurance, support, and assistance in

connecting to other BIPOC users

seeking relief.